RICOH Intelligent Support
Maximise device uptime with a suite of RICOH Intelligent Support tools
From copying and printing to faxing, MFPs play a variety of roles in offices every day. As IT has advanced, and the way we work has changed, it is important for offices to be able to get the most out of systems such as MFPs. Ricoh actively works to provide the latest features, and improve the quality of our services and support, so that your experience with your MFP is as convenient and seamless as possible.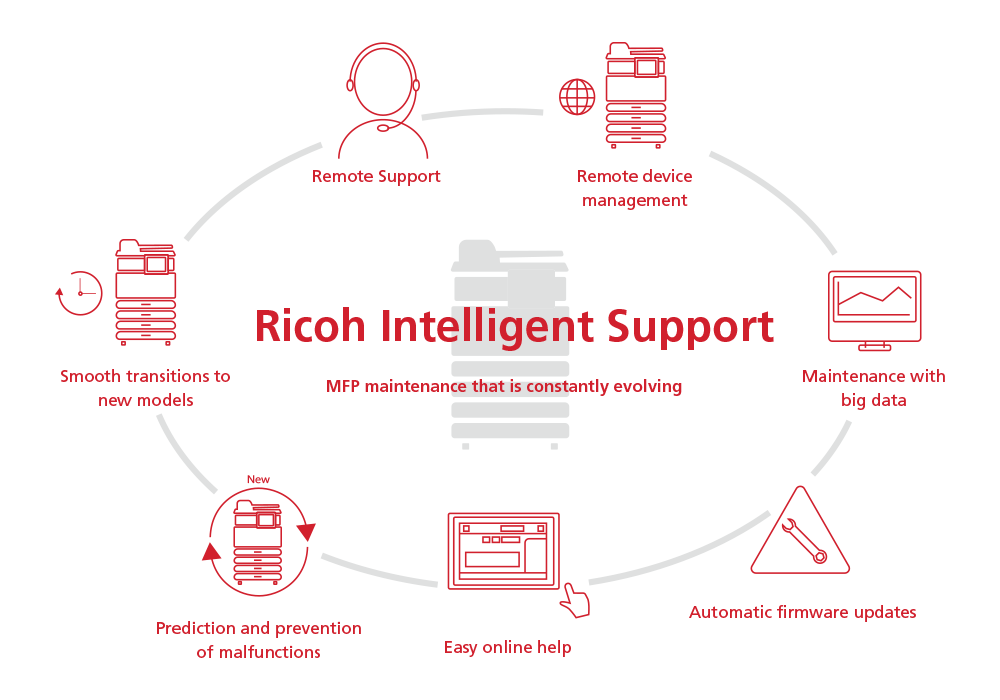 Faster transitions to new models
When you switch to a new MFP, a laborious transition is required in order to keep the settings you used on the old one. The longer this process takes, the longer the downtime during which the MFP cannot be used. To enable a faster transition to new models, Ricoh has created an easy process to import your settings from your old MFP to your new one. To ensure full security, all data is encrypted during the transfer.
Remote support that you can count on at all times
Ricoh's remote support team is on hand to help you with a variety of issues and provide guidance if you're unsure how to resolve a problem. They can view and operate the panel of your MFP remotely to identify the problem and help to solve it.
Learn more about RemoteConnect support
Cutting-edge maintenance using big data
Ricoh's customer engineers use dedicated smart devices to check information on usage and parts for each customer. In the event of an issue, your customer engineer will access the nature and cause of the malfunction before visiting your office so that the issue can be resolved as quickly as possible. Our team of customer engineers draw on extensive experience and analyse the big data we have gathered to provide you with a higher quality of support than ever before.
Remote management of your devices online
Ricoh provides a service that remotely manages the status and usage of your devices via the internet so that you can rest assured that your devices will always be in top working condition. Remote diagnostics are used to carry out the inspections your devices need, when they need them, preventing issues from occurring. Ricoh's support centre is automatically notified in the event of a malfunction and acts quickly to resolve the issue.
Learn more about @Remote
Making sure you always have the latest firmware
In order to keep your MFP up to date, the firmware needs to be updated. MFP updates used to require a visit from a customer engineer, but now our automatic update function keeps your MFP updated with the latest security settings for your peace of mind, and ensures the most convenient possible experience with your MFP at all times.
*You can also choose not to use the automatic update function and continue receiving visits from a customer engineer.
Real-time collection of information to resolve issues
When you're not sure how to do something with your MFP, you need an answer quickly. With a Ricoh MFP, you can search for help on what you're having trouble with on the panel or your smart device. The function you're using is detected automatically and relevant help is displayed so that you can find the answer you need quickly. The help manual is constantly updated via the internet.
Learn more about Web Help
Using AI to prevent malfunctions
Ricoh carries out research and development on preventive measures using AI. Our AI technology analyses how your MFP is used, the environment in which it is used, and detects signs of abnormalities, malfunctions and other issues. Periodic maintenance is carried out with this technology to prevent problems.
*The above features availability are subjected to different models.
RICOH Always Current Technology features availability are subjected to different regions and countries.
Please contact your local representatives for more information.