Ricoh President and CEO takes the stage at Reuters IMPACT 2022—Empowering employees to be ESG Advocates
October 3, President and CEO of Ricoh, Jake Yamashita, delivered a keynote address titled "Empowering employees to be ESG Advocates," at Reuters IMPACT 2022. He shared the many ways Ricoh is taking action against climate change through its own business to materialize the vision of "Fulfillment through Work", while keeping with the Spirit of Three Loves (Love your neighbor, Love your country, Love your work), our founding principles. He will also share his vision for engaging and inspiring employees across the globe to support customers and how this serves to benefit the wider ESG agenda.
Ricoh's Transformation with ESG at the core
Ricoh is very committed to its own ESG journey. Some of you may know Ricoh as a market-leading manufacturer of printers with 80,000 plus employees in 200 countries, but today, we have grown into a global digital services company. During this tremendous, transformational journey of our own, ESG has always been a core tenant of our approach. As a manufacturer, we pioneered our own circular economy model that we call the "Comet Circle™" back in 1994, evaluating every aspect of a product's lifecycle to reduce environmental impact—we've led the market when it comes to sustainability in print.
Today, we also consider how our digital services portfolio can support, drive, and innovate in the ESG agenda. And I could stand here today and talk to you about our vast digital services portfolio and how our collaboration solutions help our customers across the globe cut their carbon footprint for travel emissions. Or how our suite of hyper-automation offerings supports customers to be ever more efficient and digitalize paper processes with numerous ESG-associated benefits.
But I'm not going to talk about our products and solutions today—if you want to know more about our approach there, let's catch up later!
Instead, I want to talk about the opportunity we all have, to empower employees to be ESG advocates.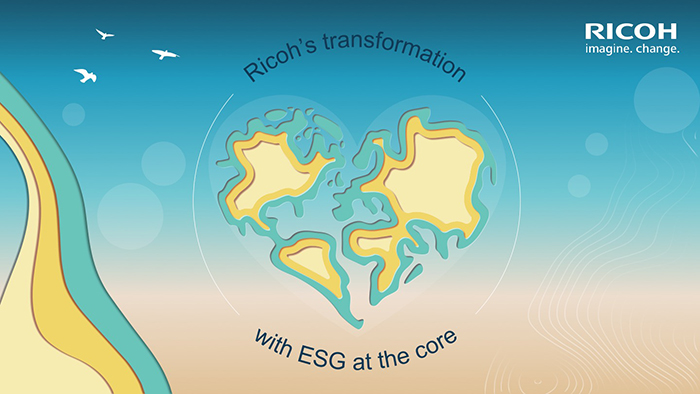 Ricoh's starting point—Spirit of Three Loves
Ricoh's roots reach back 86 years to 1936, when our visionary founder, Kiyoshi Ichimura, started our company with principles that still resonate today. He poured his heart and soul into his work and treated employees with respect and equity. The founding principles he formulated in 1946 are: "Love your neighbor, Love your country, Love your work." Remember, these founding ideas from the 1940s were set as Japan, and the rest of the world, was coming out of the devastation of World War II. These principles were ahead of their time in terms of putting people at the heart of business.
For a long time now, the second principle, "Love your country," has been interpreted by Ricoh as "love your planet." This care for the world around us is something that is universally relatable – from our employees to our customers, investors, and society at large. Continually making these principles resonate with our 80,000-plus employees has been at the heart of our success, regardless of the time we live in.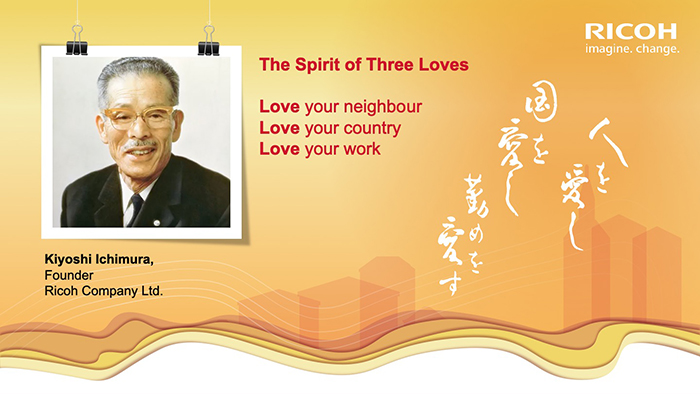 Jake's Vision as CEO
Let me take a moment now to share my vision for Ricoh as a modern digital services company. Well before becoming CEO five years ago, it was my passion to effect positive change. Central to this vision is the essential link between employee happiness and business success.
Many organizations see the value in "happy staff equals happy customers, which equals a strong business," but I want to take it further. For Ricoh, this isn't just an idea. This concept, which we call 'Fulfilment through Work,' drives everything we do. At the simplest level, I am convinced that when employees are motivated and inspired by their work, they will pursue excellence. Creating that motivation requires a sustained effort, and the ESG agenda is a fundamental element of this which I will explain.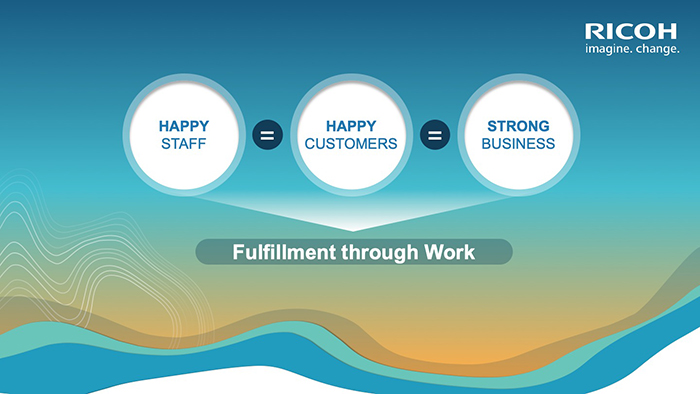 Employees can make the biggest difference
Everyone in this room will recognize that employees want to work for companies with a strong social purpose. But there's often a mismatch between the C-suite decision-makers and our employees when it comes to the ESG agenda.
In a study we conducted across Europe, I was dismayed to see that one in four business leaders believe their organization can't make improvements to reduce their environmental impact. Sixty percent of decision makers agreed there are no incentives for C-suite executives to help mitigate environmental impacts. About the same percentage felt unsure or didn't have the resources to make a meaningful impact.
Employees, on the other hand, expected better. Two-thirds of European employees expect their employers to be part of the solution for issues such as climate change and inequality. And over a quarter of European workers said they would be willing to take a 10% pay cut to work for an employer committed to helping solve societal issues.
So, the will is there. Our employees are motivated. They expect their employers to do something. How do we harness these ESG advocates, thirsty to make a real difference?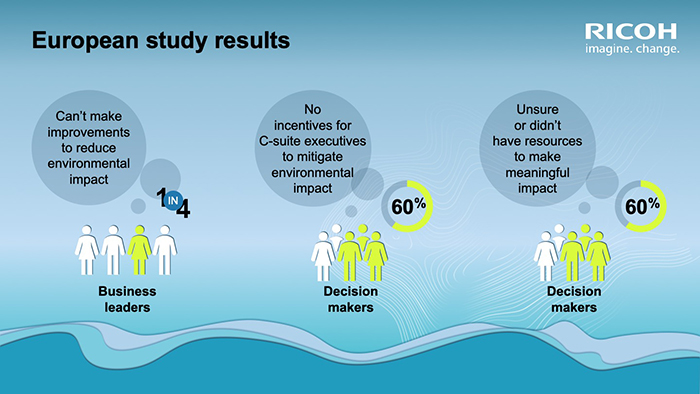 Leaders have many ESG advocates
Businesses need to take action
The IPCC Chair, Dr. Hoesung Lee, recently said, "We are at a crossroads. The decisions we make now can secure a livable future," and of course, he is right. It is crucial that businesses take robust action.
Ricoh, for example, is taking aggressive steps to meet ambitious environmental targets. We recently revised our greenhouse gas reduction targets from 30% by 2030 to 63% because we were well on track to surpass our initial goals.
We are implementing improvements across all our operations, including prioritizing Zero-Energy buildings. We have implemented digital manufacturing that uses IoT technology, which alone has reduced power consumption by 70% in our manufacturing plants. And I'm proud that Ricoh was not only the first Japanese company to join the RE100 but that we encouraged numerous other CEOs to join too. As co-chair of the Japan Climate Leaders Partnership, I'm strongly encouraging the Japanese government to deepen its commitments to maximize the use of renewable energy. These actions are impactful, and many of us are doing similar initiatives in our respective industries to make a difference.
However, there is still a disconnect. In my experience, most employees see these kinds of solutions as actions from "the business" rather than something they are able to truly engage with as individuals. But it is the individual employees who can perhaps make the difference between meeting corporate targets and creating Dr. Lee's "livable future" for every human being on the planet.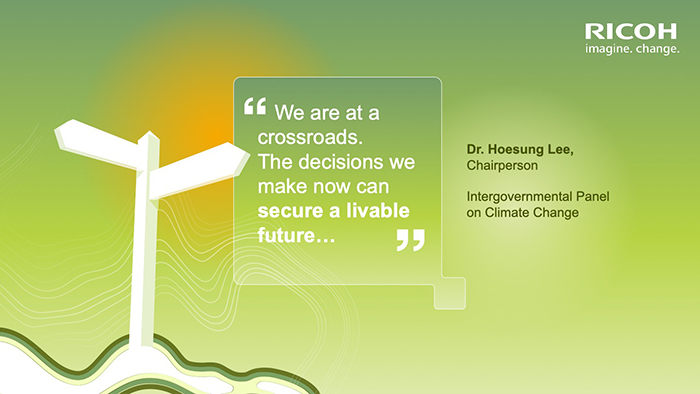 Help employees understand the ESG agenda
At Ricoh, we've dedicated a lot of resources to help employees understand the ESG agenda, and I've been astounded by the impact. This effort starts from the top, of course. We carefully looked at how and where our organization can support the ESG agenda with rigorous materiality assessments.
But the critical step is to help employees really, truly understand the ESG agenda. This might sound simple, but even today, employees, even senior leaders, are still confused about the difference between sustainability, CSR, ESG, and the SDGs – and, with so many initials, that's no surprise! We must engage them in every way possible, whether through training, regular communications, or, as we do at Ricoh, holding our annual Global SDGs Action Month, where all employees proactively engage in a huge range of activities to directly support the SDGs.
I recently challenged our employees not only to see how their work was connected to the SDGs but to also be able to articulate it to their coworkers, families, and friends. In this year's event, the global photo competition showcased so many inspiring individual activities from employees worldwide and really helped connect people where language barriers exist. Along with other KPIs, we linked our ESG targets and employee engagement scores to directors' and executive officers' compensation.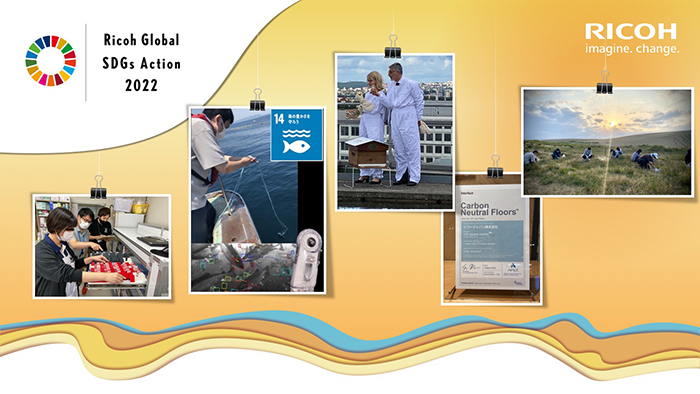 The link between employees' roles and ESGs
Once employees started to see the link between their roles and the ESG agenda, the magic began to happen. We saw innovation springing up in new ways across the organization. For example, our employees saw how we could apply our photoconductor technology from copiers and printers to develop 'energy-harvesting cells' capable of generating power in low-light areas, eliminating the need for battery replacement. They saw a direct connection to how this would enable new IoT digital services unthinkable only a few years ago.
Another example comes from our core inkjet technology that sees Ricoh developing 3D bioprinters that can deposit living cells very precisely, layer-by-layer, as well as conducting potentially life-saving work in drug and disease research using iPS cells.
In both these examples, employees saw opportunities to resolve issues by applying their expertise to areas beyond their daily job. However, the motivation started not because of a demand from senior management. Employees saw a bigger purpose in the connection between their roles and ESG that spurred their passion and curiosity.
And all this means that our "Fulfillment through Work" vision is coming to life. It's happening for us, and it can for you. As customers—and our employees—find fulfillment through their work, it enables their creativity. It gives them the ability to raise their thinking to that next level, beyond their day-to-day tasks, and consider how their work is connected to the environment and society. It is the small things that often resonate with our employees. This combination is a win-win for our businesses, customers, our employees, and our planet.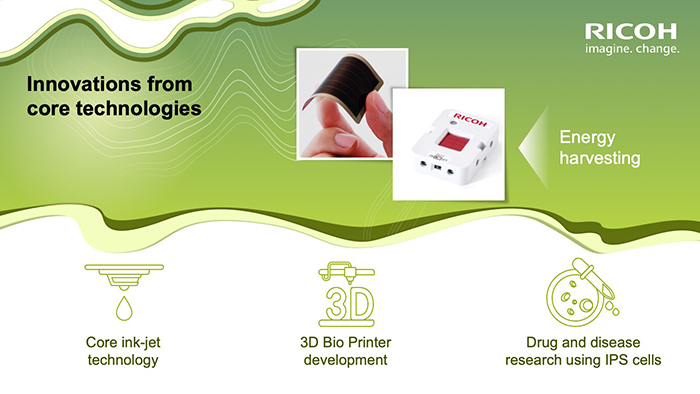 Closing
So my message is this: If you are a leader in an organization, all your employees can be ESG advocates ready to help us all make the shift we so need beyond just the "business actions." We can't resolve everything with that top-down approach.
We know we still have a way to go at Ricoh—ESG is an ever-changing landscape, with new targets, directives, and data coming out daily. It takes a lot of imagination and commitment to continually engage staff across our global organization to see how ESG fits with their roles. But I believe motivated and fulfilled employees are an untapped force in creating a sustainable society. And if we get it right, the reward for our entire planet is more than worth it.
There is an old saying that is very special to me: "We do not inherit the earth from our ancestors; we borrow it from our children." So, let's work together to save our planet today and not just leave it up to future generations to solve.
Thank you very much.