Do more with less
Collaboration when work can be anywhere
Without collaboration, business units develop their own processes. Your workplace can become fragmented and marked by missed opportunities.
What is the current state of workplace collaboration?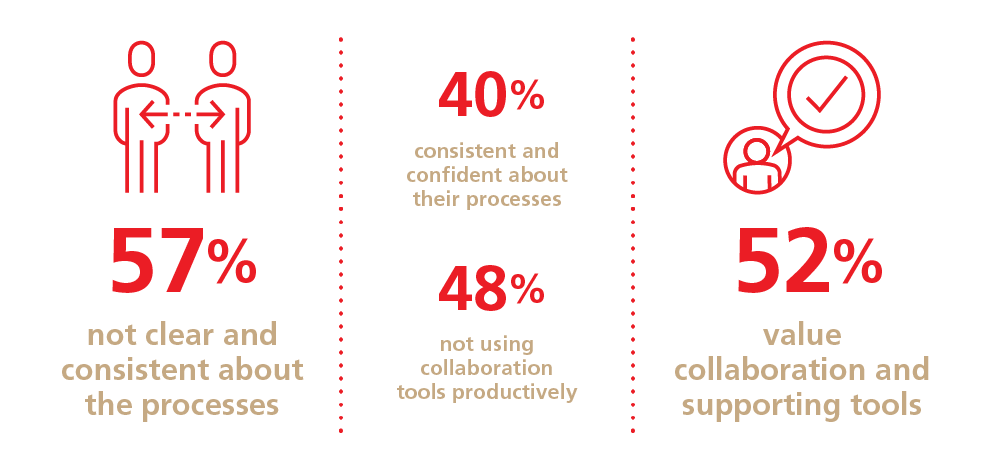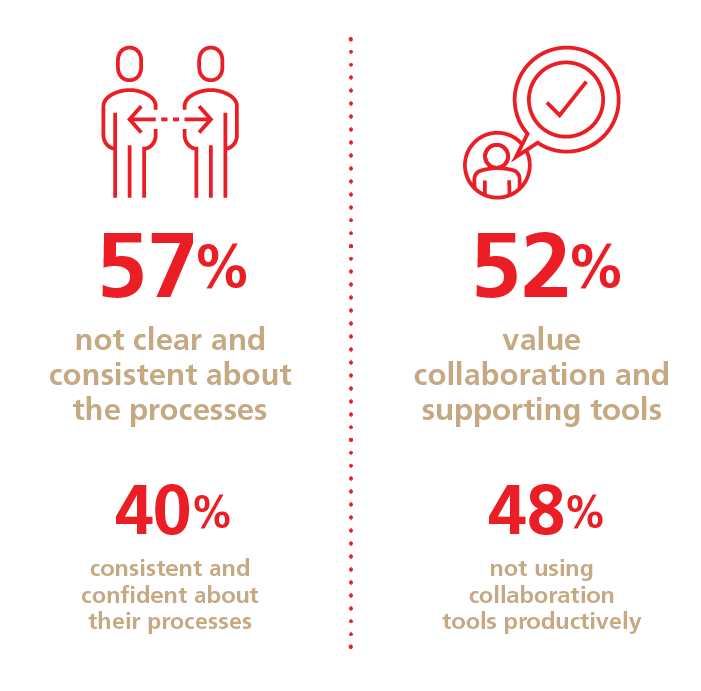 Collaboration in digital workplaces is more than sitting together. You need the tools to get people working together – in the office, from home or out in the field.
What collaboration toolsare organisations using?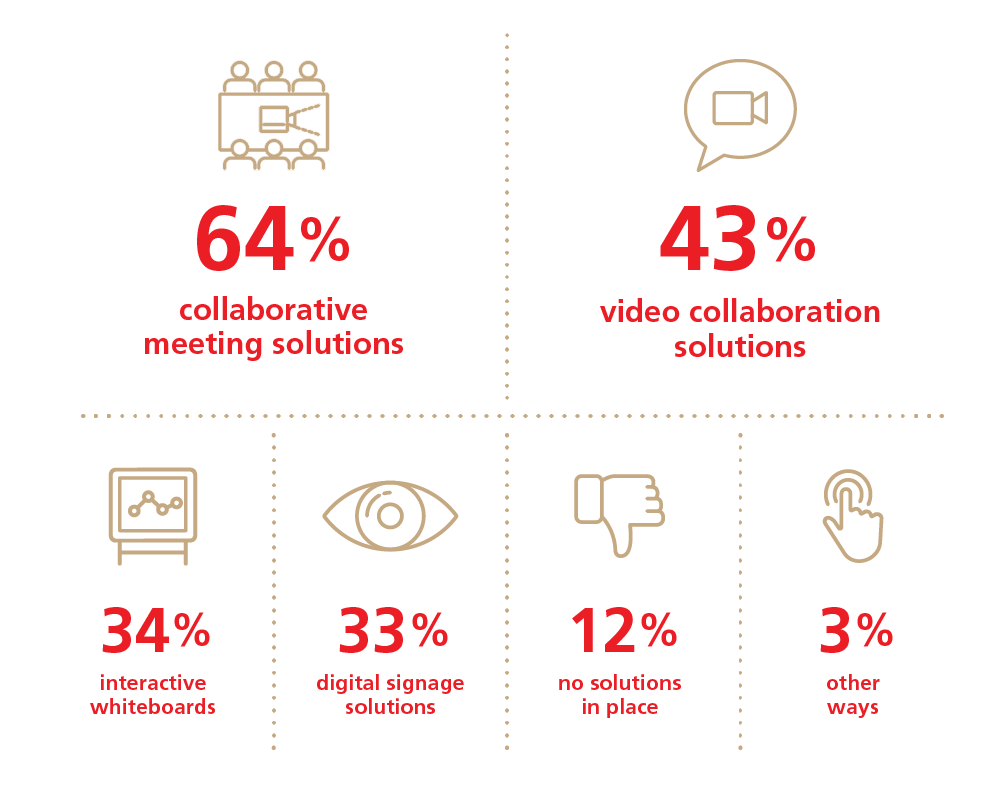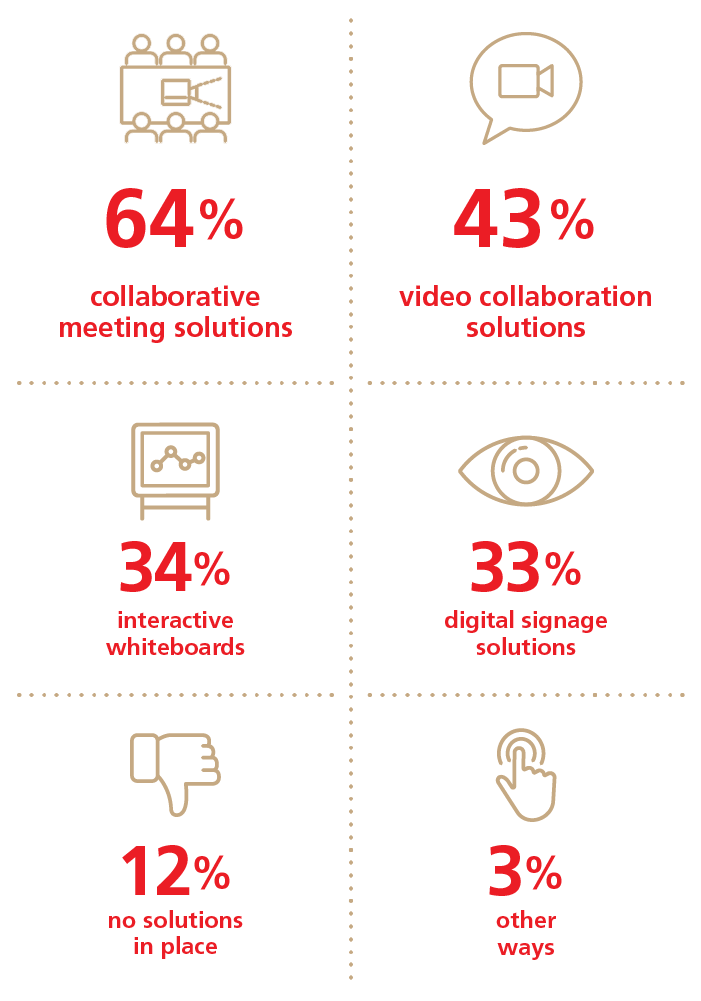 Anytime, anywhere
The best collaborative technologies deliver excellent user experience and secure collaboration anywhere, anytime, on any platform.
Modern workplaces and classrooms need to cater to diverse working and learning styles. When work or study can be anywhere, is your environment accessible, inspiring and productive?
Smart meetings

Focus on getting down to business, not managing logistics. Bring meetings to life with real-time collaboration, wherever your team is sitting.

Smart classrooms

Create curious and connected classrooms where everyone gets the best seat in the house, with interactive flat panel displays, wireless collaboration and distance learning.

Workspace utilisation and management

Meeting rooms and space booking software helps to maximise space utilisation, reduce administration time and introduce smarter booking processes into the workplace.
Our approach
Your business is complex, but workplace collaboration shouldn't be. Ricoh smart meetings and workspaces facilitate the right physical and virtual environments for teams to get things done.
From planning to deploying and maintaining, we're your partner in creating a world-class collaboration environment.
Advisory and design

We work with you to understand your business objectives and barriers to collaboration. Then we develop a customised solution incorporating new collaboration technologies to keep your people connected wherever they are. 

Construct

Our team works with you to construct a delivery framework to suit your business environment. Training and change management are included to streamline adoption and user experience.

Care

Technology changes fast. You need to be confident your collaboration tools are future proof. Our managed collaboration services can proactively manage your tech environment, providing both on-site and remote support.
IT services

Improve the way you work and boost productivity when we advise, design, construct and care for the technology that powers your business.

IT Services

Intelligent workplace services

Offering integrated cognitive solutions that help companies collaborate across borders.

Smart meetings and workspaces

Communication services

Connect and collaborate with our suite of visual communication tools.

Managed print services

MPS is a specialist approach that transforms how you manage information to increase productivity, unlock the value in your information and reduce costs.

Application and business process services

Move from existing systems and processes to automated business applications, innovative technologies and the processes.

Production print services

Our digital production printers, backed by industry experts, deliver value across corporate, commercial and publishing sectors.