Ricoh extends inkjet innovation leadership with the addition of state of the art ink technology for current and future platforms
Singapore, 28 February 2018 - Ricoh Asia Pacific has just announced another step in its journey to be the most innovative inkjet printing company in the world. Knowing that production printing businesses are continuing to ask more from digital print vendors, especially for inkjet solutions, Ricoh today announces the development of a new ink technology. This new ink will soon be brought to market as an additional option to current and future clients on the Ricoh Pro™ VC60000 continuous feed inkjet printing platform.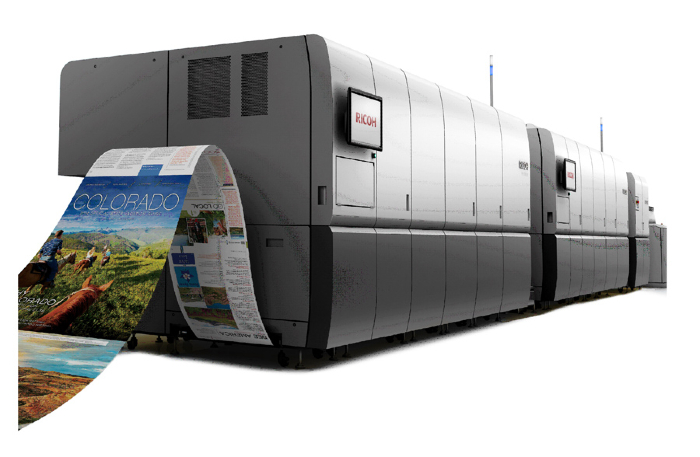 TRicoh announces new ink technology for its Ricoh Pro VC60000 continuous feed inkjet printing platform.The direction Ricoh is taking with the new ink technology contributes to improving the wide-ranging capabilities of what is already an industry-leading production inkjet portfolio. Clients will benefit immediately and in the future because of Ricoh's decades of experience in tuning print head technology, waveforms and ink chemistry. By using these new inks, clients will immediately see key advantages:
- The inks are designed to print directly to traditional offset coated substrates, without primers. As a result, the production system is more flexible and economical, while at the same time being less complicated.
- By enabling the latest in pigment ink innovations, clients can continue to expect excellent durability, water fastness, and print head reliability, similar to Ricoh's current inks. An improved colour gamut will increase the different types of applications that can be supported due to more vivid colours and a richer black.
- The printing speed on coated substrates will increase to support higher production volumes (including offset to digital page migration), decreasing time to market for applications and promotions.
"Our clients have been very successful levering Ricoh's production inkjet solutions in their businesses. They have also continued to partner with us in developing new technology that will enhance the solutions they have invested in, and offer them clear growth paths for the future," said Eef de Ridder, Director, Commercial Printing of the Commercial & Industrial Printing Group, Ricoh Europe"
"The future of Ricoh's business, and that of our clients', is entwined in a shared opportunity to understand market requirements and the solutions required for business growth. Ricoh's new inks are an excellent example of innovation addressing real world business opportunities through improved colour, faster production speeds, and enabling the use of common paper types in the commercial print space."
You may also contact your local sales representative for more information.
|About Ricoh|
Ricoh is empowering digital workplaces using innovative technologies and services enabling individuals to work smarter. For more than 80 years, Ricoh has been driving innovation and is a leading provider of document management solutions, IT services, commercial and industrial printing, digital cameras, and industrial systems.
Headquartered in Tokyo, Ricoh Group operates in approximately 200 countries and regions. In the financial year ended March 2017, Ricoh Group had worldwide sales of 2,028 billion yen (approx. 18.2 billion USD).