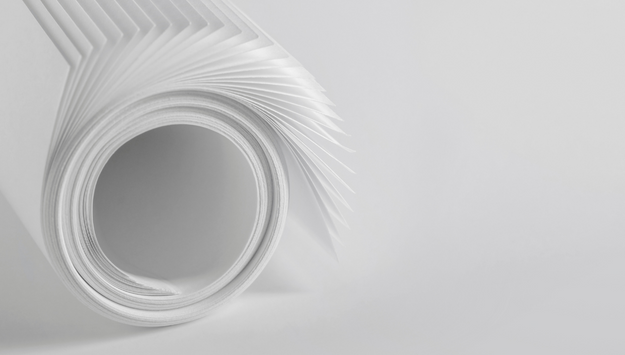 Back
130PMF-3
Facestock Direct Thermal Paper
High heat resistance up to 90 celcius degree
High resolution. Can print small characters & barcode
Applied for POS bill, invoice, parking ticket...
Ricoh Direct Thermal Paper (No ribbon required)

Item
Unit
Specification
Test Method
Basis weight
g/m2
75 ± 7
ISO 536
Thickness
μm
73 ± 9
ISO 534
Tensile strength
MD
kN/m
2.9 min
ISO 1924
CD
kN/m
1.4 min
Tear strength
MD
N
0.27 min
ISO 1974
CD
N
0.32 min
Whiteness

%
70 min
ISO 2470
Smoothness (Face)
s
500 min
Oken type instrument
| | | |
| --- | --- | --- |
| Restriction of Hazardous Substances | Material Safety Data Sheets | Forest Responsibility |
| BPA Free | Chemicals Standards | |
The different layers of our thermal paper
At Ricoh, our thermal papers consists of five different chemical layers that create the unique thermal and protection properties. The following is an overview of these layers. Please note that this overview does not include information on the adhesive layer or the Silicon release liner.
Top coat

Protection of thermal image. Image preservation and pre-printability

Thermal coat

Image density, sensitivity, and preservation

Under

Smoothing coat that determines sensitivity, density and brightness of the image

Basis paper of film

Back coat

Protection against outside aggressions
Thermal paper is relatively fragile. Because of this, certain precautions must be followed to prevent any premature deterioration during storage or while handling until the end of its use.
Care in Storage

Before unpacking:

Ricoh Thermal papers can be unused without any deterioration for a long time after production if they are stored in the dark at temperatures that do not exceed 95° F and a relative humidity not exceeding 85%.

After Unpacking:

In addition to the above care, avoid long term exposure to direct sunlight and strong fluorescent light sources. These light sources can generate some background coloration if left unchecked. Do not place Ricoh Thermal paper near heat sources.

Care in Handling

Avoid any contact with materials composed of, or containing, solvents or plasticizer. Avoid/ minimize any scratching or rubbing as this may cause unwanted thermal revelation. Avoid any contact with water.
Applications suitable for:
Item
Unit
Specification
Test Method
Image color
-
Black
Visual inspection
Dynamic image
-
1.00 min
Ricoh standard simulator
Dynamic image sensitivity
mJ/dot
0.43 max