Materiality for the Ricoh Group
Ricoh Group aims to create new markets and value propositions by looking broadly at social issues, and taking on the challenge to resolve them while simultaneously achieving social development and Ricoh's own business growth. Based on Materiality reflecting Ricoh's Mission Statement, the Mid-Term Management Plan (MTP), and the expectations of our stakeholders, we will address to solve social issues through business.
Five material issues and SDGs
To the Ricoh Group, a sustainable society is one that pursues a Three Ps Balance - the balance of Prosperity, People and Planet - and its aims for it an ideal society. The following figure shows how the five material issues and the Three Ps Balance align with the SDGs. We will set target and KPI for each issue with business division and reinforce the initiatives through business.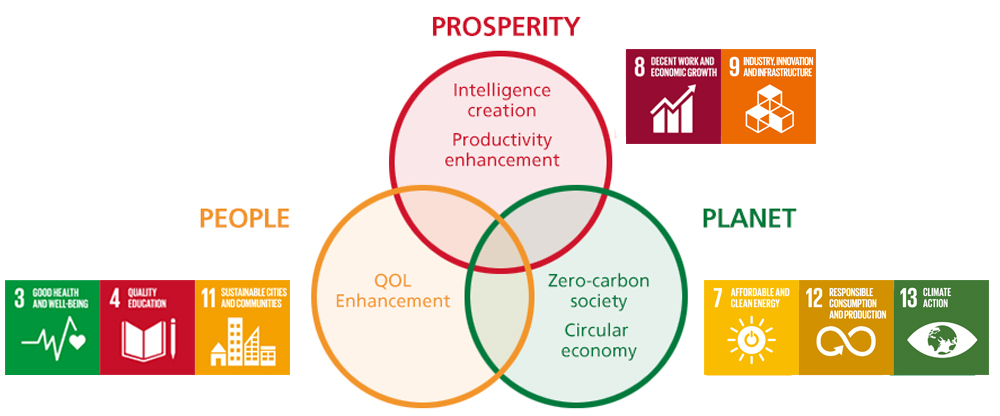 Ricoh materiality
Intelligence creation
Productivity enhancement
QOL enhancement
Zero-carbon society
Circular economy
2030 Goals for Material Issues
In June 2019, the Ricoh Group set the goals to accomplish by 2030 for the five material issues. The goals were set through the process summarized below, in order to accelerate our efforts to achieve the SDGs based on the basic management policy of solving social issues through business. Going forward, each business division will carry out activities to accomplish self-set targets to contribute to achieving the SDGs and monitor the progress to be reported every year. In addition, we will review and refine target levels, KPIs and assessment methods on an ongoing basis in consideration of societal requirements and international norms as well as the opinions of our stakeholders, including customers, the social sector and experts. The resultant refinements will also be reflected in our business activities to increase the social value of the activities. Also, through these activities, individual employees are expected to become more aware of their contribution to society through their work, thereby increasing employee motivation and engagement.
Ricoh's activities and framework of sustainability and 2030 goals
For each of the areas related to sustainability of the economy, society and the environment, we have set the three items: society aimed at: material issues to be addressed; and goals to be achieved by 2030. The goals present effects on contribution to our customers, number of people that use the medical, educational, and community services incorporating Ricoh technology and the environmental impact throughout the value chain to be produced by business divisions' activities.