Workflow Management with DocuWare – Document Management System
With workflow management and a suitable workflow management system deployed as a cloud solution, companies can standardize and automate any workflow that drives important business processes. The potential for new levels of effectiveness and employee satisfaction is very high and ultimately, the entire company benefits from error-free and efficient workflows.
Learn more about what workflow management is, and how you can use workflow management profitably for your company.
1. What is workflow management?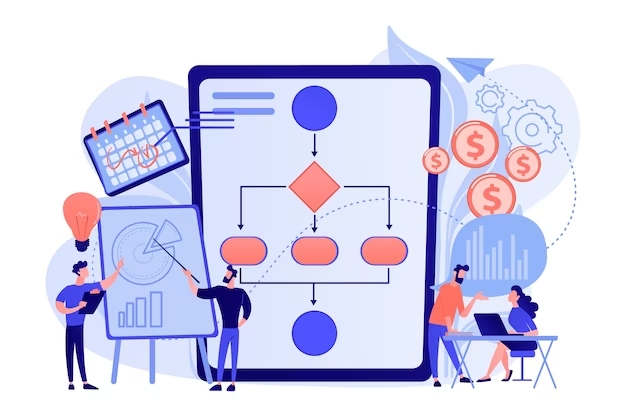 Figure 1. What is workflow management?
Digital workflows are used to automate business processes. With digital workflows, analog business processes are digitized, designed, and automated using software.
A workflow determines who performs individual steps and when. Workflows have a defined starting point, key process steps that may or may not require decisions or approvals from humans, and then a defined end point.
The definition of workflow management is simple: Decision makers define rules on how business processes are handled in the company and assign tasks (and define substitutes in case an employee is not available). Workflow management also specifies which processes start a workflow; for example, storing an incoming invoice or other document.
Certain deadlines or a change in the status of a document in the document management system can also start workflows, the flow of which must be planned, modelled and monitored. This task is performed by a workflow management system that controls and monitors workflow management in the enterprise. Other important points:
Workflows can also differ significantly between departments in the same company.
A workflow management system can help model, control, monitor and optimize the processes and procedures of workflows and their individual work steps.
A good workflow management system performs continuous analysis of the workflows.
Substitution rules can assign certain tasks to groups of people. In this way, tasks can be automatically assigned to the first employee who currently still has free capacity.
Workflow management thus enables the assignment of workflows independent of the presence of employees. At the same time, managers can monitor the processing of the workflows.
According to the German study Process Mining & RPA 2019 by IDG, 90% of companies want to automate their processes, as this is an important prerequisite for digitization. The focus is on time and cost efficiency. Digitizing processes means making a company fit for the future.
Ask the right questions before creating your automated workflows:
2. What is a workflow management system?
A workflow management system helps in planning, managing and monitoring workflows. The workflow management system provides tools and designers for workflows and can also monitor the corresponding workflows. Workflow management systems form an important basis for workflow management in companies:
The system has tools to create and edit workflows.
Mostly graphical user interfaces are used to model and automate even highly complex processes without programming knowledge.
The workflow management system can model and display individual work steps as a flow diagram.
Workflow management systems recognize events and classify them. In this way, individual steps can be derived, which in turn are started and monitored by the system.
The system can also access and use metadata in the document management system. This enables the automatic control of documents within the workflow management system.
Not all products are equal: the selection of the right provider and the right workflow management tool play an important role.
Cloud-based workflow management solutions that are preconfigured for key processes can deploy much faster than solutions that require traditional consultations.
3. Examples: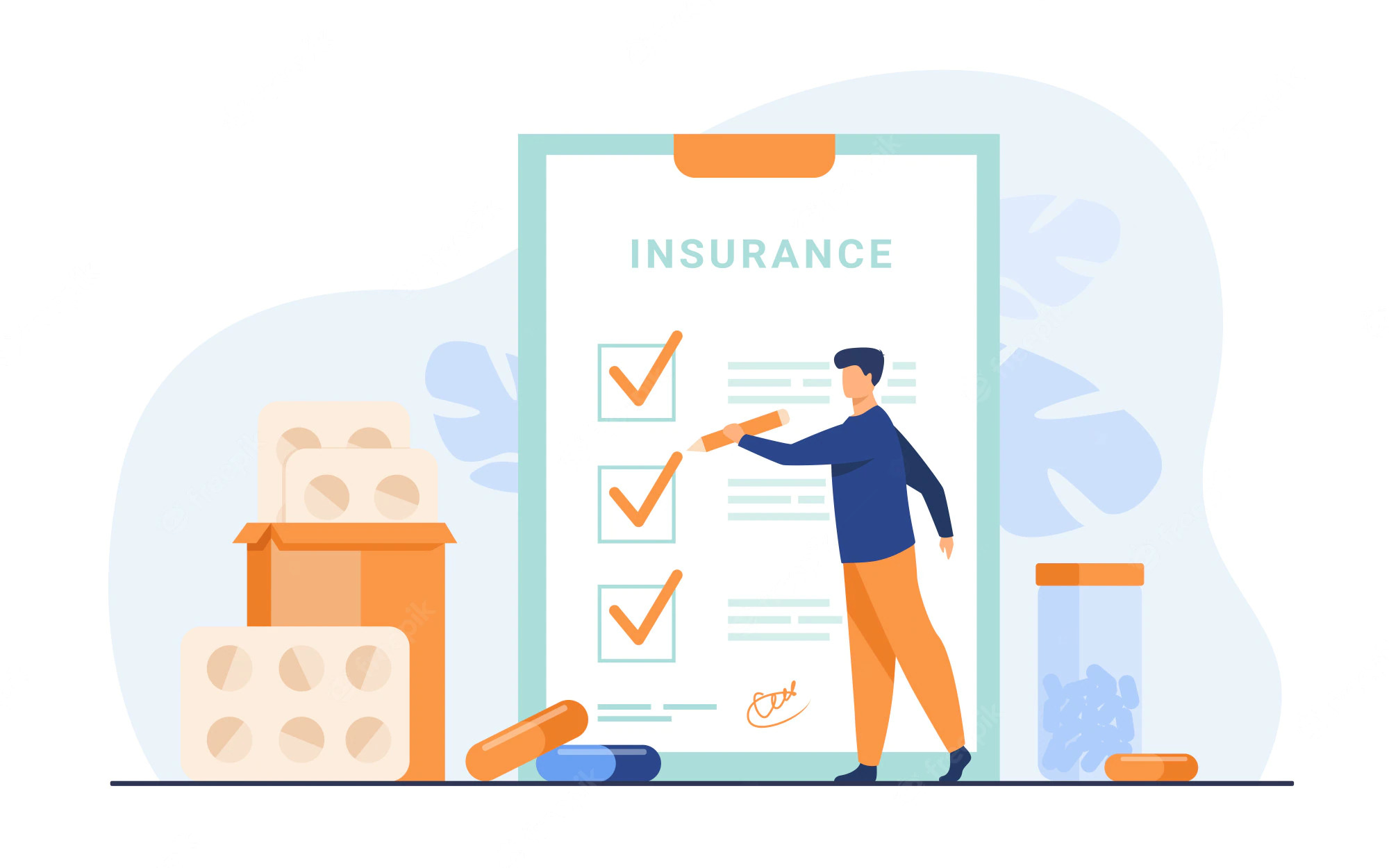 Figure 2. Insurance company
In an insurance company, several employees must process numerous applications every day. The mobile and distributed workforce can work together even though employees are in different departments and in many cases are physically separated from each other. A workflow management system can provide employees with a task list. If an employee clicks on a request in the list, the request is blocked for other employees. This saves double processing. Further processing of the request is also precisely controlled by the Workflow Management System.
Workflow management systems are effective aids for completing tasks quickly and optimally. DocuWare, for example, combines a document management system with a workflow management system to simplify invoice processing. Entire invoices or partial amounts can be released using digital stamps. This speeds up invoice processing enormously.
It is also possible to use forms in the workflow management system. By filling in fields in the form, further processes are started. Data that employees need can in turn be accessed via the document management system. In this way, the workflow management system and the document management system interlock perfectly to enable users to work as effectively as possible.
4. What is the difference between business process management and workflow management?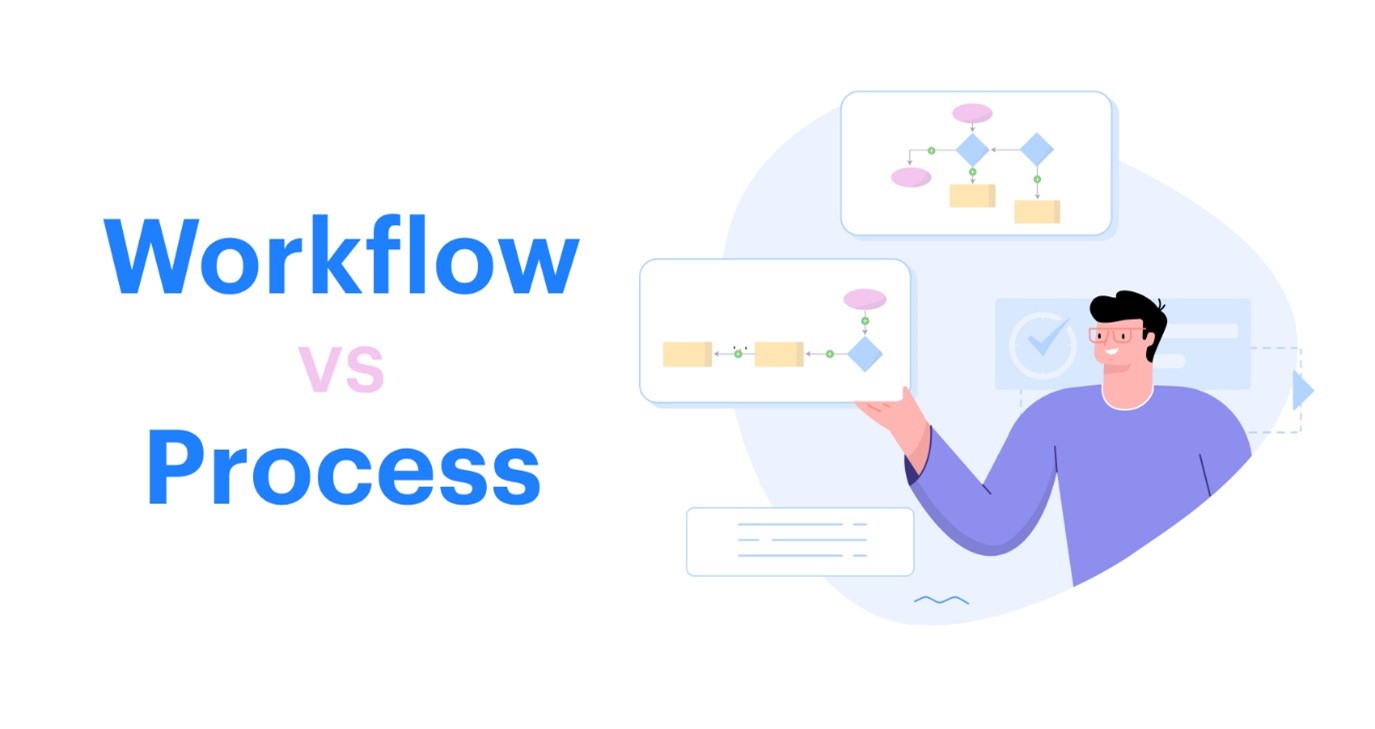 Figure 3. The difference between business process management and workflow management
Business process management and workflow management are sometimes confused with each other, as are processes and workflows. To explain:
Workflows represent the coordination of individual processes within a company.
Processes, in turn, are developed through business process management, with a focus on the entire company.
Business process management (BPM) serves the strategic orientation, development and analysis of business processes. Within this framework, the individual processes in the company are integrated in such a way that they fit with the strategy and corporate culture as a whole and improve the processes in the company. The individual processes are also documented.
Simply put, BPM focuses on the entire company and takes a holistic view of how best to design all processes. Support can also be provided by IT solutions, but this is not mandatory.
By contrast, workflow management divides processes according to the order in which they are processed. The focus is not on the entire company at once, but often on individual departments that must process tasks in a certain order, often supported by solutions such as document management systems. Workflow management is part of a complete business process management.
In summary:
Workflow management is intended to enable the coordination of different employees in a workflow, regardless of where they actually sit.
Workflow management should ensure that errors and redundancies are avoided.
At the same time, the individual work steps are checked and monitored.
The status of individual processes is particularly important.
Workflow management helps to plan, link, coordinate and monitor practical work steps.
According to a study by the Helsinki-Aalto University School of Business, for example, the turnaround time of invoices between receipt and payment can be reduced by two days on average if digital processes are used.
5. What are the benefits of a workflow management system?
Workflow management systems and digital business processes are how companies automate manual workflows. This makes daily work for users faster, easier, and, above all, more effectively verifiable:
Invoicing and accounting departments benefit most of all, but also human resource teams can experience immediate returns on investment from workflow automation. These are the departments who deal with central business processes. Especially here, workflows are often found that include strategically and technically demanding tasks. If these processes are optimized, the entire company benefits.
For companies looking to get rid of paper as well as their manual processes, workflow management is critical as it digitizes and expedites the old, slow way of business.

Get your free guide to becoming a paperless company in 90 days
Workflow management is also a powerful tool for eliminating complicated, broken workarounds for processes that don't work – and boosts employee collaboration.
In a workflow management system, a task list provides an overview of individual workflow requirements. In addition, there is the connection to the document management system. Together with workflows, documents can be edited much more intuitively. With a workflow management system, individual tasks can be completed in a much more structured, faster and more reliable manner.
Work still needs to get done; even when people are out of the office. A workflow management system solves this problem with substitution rules and escalation management, so tasks are no longer left unfinished because an employee is sick or on vacation. Instead, the system can automatically forward the task to a predefined substitute. And if a task is overdue, it is possible to specify which person or people are to be informed.
6. Getting a workflow management solution: How to proceed
To implement workflow management, together with an associated workflow management system, a structured approach is recommended. In this way you will find the best solution and integrate it effectively in your business and IT infrastructure. More often, these are cloud solutions. Cloud solutions can be integrated faster and grow easily with the company.
Step 1: Find the right workflows
A cloud-based workflow management system is ideal if it is used together with a document management system:
Combined, process automation is particularly effective since teams are freed from manual tasks in document-intensive processes.
If the documents are already digitized in the document management system, workflows can be created much faster and at the same time increase the benefit of the document management system through interaction with the workflow management system.
Simultaneously, users gain an optimized productivity level as the document flow is regulated by the workflow management system.
In order to introduce a workflow management system, the most important workflows should be identified, whose digitalization and automation bring the most benefits.
Workflows that are suitable to begin with often contain numerous, recurring tasks and work steps that are of benefit to the entire company because they are of central importance. Such workflows are mainly found in the head office and company departments such as human resources, accounting, legal and purchasing. Of course, it depends on the individual company which workflows benefit most from digitization and automation.
The focus of processes that are to be automated and digitized by workflows is often documents and their distribution, editing and control. The documents are in turn stored in the document management system, which is linked to the workflow management system.
Especially invoice processing or contract management are typical areas that are mapped in a workflow management system. Such workflows are also suitable for getting started, as their automation is expected to result in high productivity increases.
Step 2: Identify interfaces for integration
In most cases, workflow management systems are not used in isolation, but are used together with other systems such as a document management system, and other business applications benefitting from being connected to a workflow management system.
The stronger the connection between the workflow management system and existing IT solutions, the more effectively it can work. It is important to identify the necessary programs and their interfaces, and to determine how these can be linked to the workflow management system.
Examples for the integration of enterprise applications to workflow management systems:
The integration with the accounting or ERP system makes sense, because here information and data from invoices and other documents must match the accounting data.
In the HR department, a workflow management system integrated with HR applications can check whether documents, such as contracts or other important documents, have been correctly forwarded, signed, completed and saved.
If Microsoft Word or other word processors are connected to the workflow management system, Office documents can be included in workflows and security specifications can be made at the same time. Version management is also possible in this way.
A good document management and workflow management system must have a high degree of interoperability. For this purpose, industry standards should also be integrated, for example REST-based APIs with which other systems can be connected to the workflow management system. If the workflow management system is a cloud-based concept, it should work well with other cloud-based hosting and version controlling.
Self-developed interfaces in an enterprise application are not recommended under any circumstances, as this can lead to problems with interoperability, access and further development in the long term. This also applies to workflow management systems. Solutions that rely on industry standards are best.
Step 3: Find the right provider and the right solution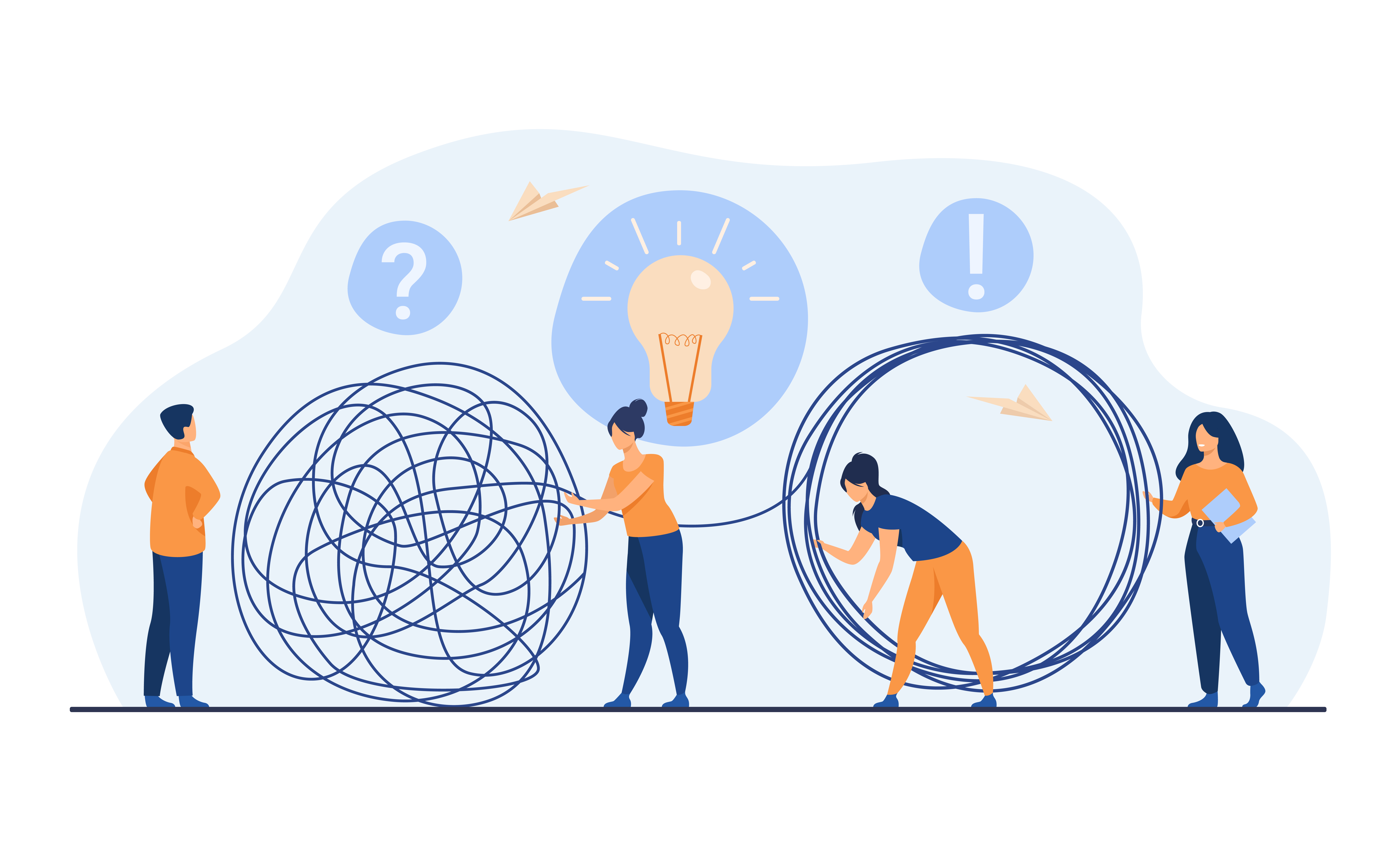 Figure 4. Find the right provider and the right solution
If the requirements for the workflow management system are clearly defined and it has been determined with which enterprise applications the workflow management system should work, the right provider must be found. The integration of a document management system with a workflow management system offers added value and more effective workflows.
Ideally, the provider of the workflow management system should also have expertise in cloud services. Workflow management systems and document management systems are ideal as a cloud solution, as such systems benefit greatly from the advantages of the cloud. In addition, the provider should be able to prove its track record.
7. Consider mature cloud solutions
The workflow management system should have a sufficient range of functions and provide the cloud services that are needed.
Consider vendors that provide complete packages, preferably together with a document management system.
Preconfigured workflows should still be adaptable to the corresponding requirements in the company.

I

deally, the system should have a secure archiving function, customizable access control and be extremely stable.
Cloud systems offer advantages with growing data volumes, as they are faster scalable and can easily provide storage space even with rapidly growing data volumes.
Cloud-based systems are easier to plan in terms of costs and licensing. Users only pay for the storage they need. The costs can therefore be planned and controlled optimally.
Cloud-based systems use end-to-end encryption to ensure that no unauthorized person can access the data.
The systems are operated in secure data centres that have extensive security measures in place.
The security of the system is considered during planning and should also be part of the implementation. Here it can be determined which person or people may access the data.
Compliance requirements can also be ideally planned and introduced in this way. Human resources departments, for example, work with very sensitive data, whose access must also be particularly well protected in the workflow management system.
8. Preconfigured workflows offer tangible advantages
Before introducing the workflow management system, verify whether the system offers preconfigured workflows or whether all processes must be set up manually:
• Preconfigured workflows use the provider's experience for similar processes, as well as commonly successful use cases from other companies.
• Preconfigured processes can be quickly introduced and individually adapted to your own requirements.
• Due to the fast introduction, companies immediately benefit from the possibilities of workflow management.
9. Selection of the right workflow management software and consideration of security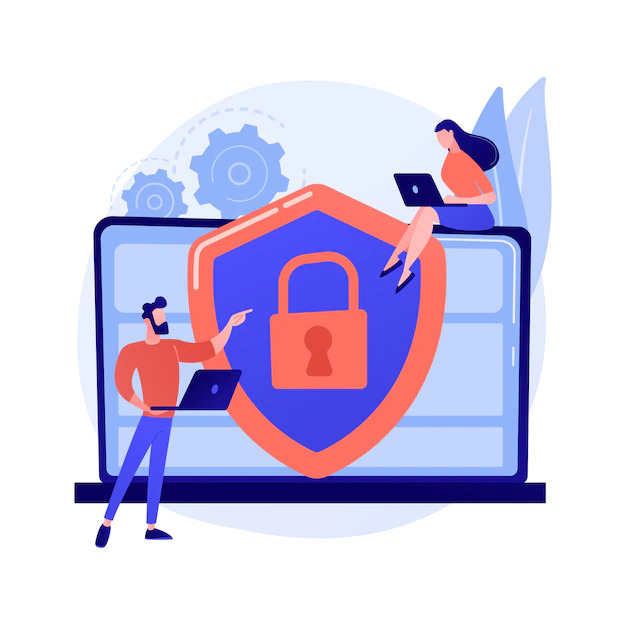 Figure 5. Selection of the right workflow management software and consideration of security
The cloud-based workflow management software should be ready for use and easy to use. Users must be able to adapt and familiarize themselves with the system as quickly as possible. In everyday business life, the focus is on productive work. For this, an easy-to-use and understandable user interface is just as relevant as optimal performance.
10. Cloud solution globally available
If a solution is provided through the public cloud, it should be available globally. The provider should also offer its product preferably on a leading cloud platform. The advantage here is that the solution is operated in secure, high-performance data centres that are globally accessible. The best-known providers of cloud infrastructure are:
Microsoft Azure
Amazon Web Services (AWS)
Google Cloud Platform
Oracle Cloud Infrastructure
A provider that operates its own data center cannot achieve the performance and security of a global provider such as Microsoft, Amazon, Google or Oracle. This also applies to availability. On top of this, additional solutions can be booked with these providers that are able to interact optimally with the workflow management system.
11. Tips for improving your digital workflow
If workflows are digitized with a workflow management system, the processes and workflows in the company will be more efficient and effective. This saves costs, improves security, and also increases the satisfaction of the employees.
a) Document and rethink current workflows
In order to design the workflows ideally, they should be thought through and documented. This often results in additional potential for improvement.
b) Feedback from users
The users who work with the product often have suggestions for improvements. All useful improvements should be reviewed and incorporated.
c) Optimize processes step by step
It is not always necessary to optimize everything all at once. Often, improving individual processes brings real added value. When optimizing business processes, it is not always necessary to solve all problems. It is often enough to remove individual obstacles.
d) Digital workflows should be flexible and adaptable
New digital workflows will not always be perfect in their first version. Suggestions for improvement arise during daily work, which optimize the workflow and thus the work of a department and the tasks in the workflow. It must therefore be possible to integrate these improvements into the digital workflows without problems.
e) Do not make workflows too complex
The workflows should not overwhelm the users. For this reason, processes should be simple, easy to understand and flexible.
f) Request professional support
If there is no IT specialist in-house, workflows should be created in cooperation with an experienced service provider. In this way, errors can be avoided from the outset.
12. How does DocuWare support the introduction of a workflow management system?
Digitization is not limited to certain industries or business sectors. It affects all companies in trade and industry as well as shipping companies, hospitals and public administrations -- and within them departments such as purchasing, development, manufacturing and warehousing, as well as human resources and accounting.
Sooner or later, almost everyone must adopt digital change and establish automated workflows. However, neither companies nor their departments are at the same level when it comes to digitization, so paper-based work is still part of everyday life in many places, despite its cumbersome and time-consuming nature.
This is where digital workflows can help: replacing manual, paper-based work by automating every day and repetitive work processes. Digital workflows help to speed up all processes and eliminate unnecessary work steps. By means of standardization, they prevent tedious email chains or time losses due to repeated attempts to make appointments. Digital workflows make it much easier to plan and organize appointments.
At the beginning of digitization projects, DocuWare always creates an analysis of the current state of a company and all the departments whose processes are to be automated in the future. The customer evaluates the respective status quo and defines where DocuWare will be implemented based on the concrete need for action for all employees involved.
A good guideline for determining the potential for optimization: the more paper is generated within the daily work processes, the more need for restructuring. The answer to the question of what benefits automated workflows should bring helps in formulating the objectives. Experienced DocuWare experts can provide valuable tips and guidance during this phase.
Digital workflows not only make all processes within a company faster and more error-free, but also more transparent and easier to control. Especially departments like accounting and human resources experience the immediate benefits. In addition, digital workflows promote a fast reaction to customer wishes and market events, which can boost sales - and thus bring decisive competitive advantages.
DocuWare – Document Management Software And Workflow Automation
Ricoh now offers DocuWare – document management and workflow automation solutions, which have been around since 1988. DocuWare solution allows businesses to digitize documents, manage and work with business data with international security standards in the cloud, at corporate servers or a combination of both. From there, businesses can simplify your existing workflows quickly, focus on your core business and increase competition in the market.